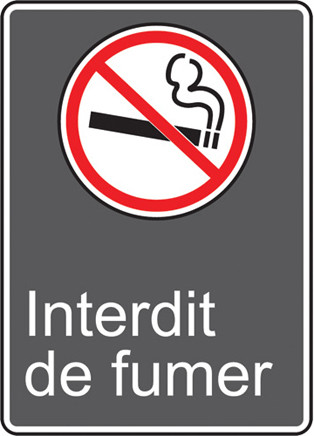 This product
is not available

with the option set selected. Please try another set of options.
If you have any questions, please contact us.

514-645-2753
Accuform Signs MCSA584VA Bilingual Safety Sign and Identification "No Smoking"
Adhesive Vinyl safety sign "No Smoking" or "Interdit de fumer" according to your choice, with cigarette pictogram.
TQSAU943000
In stock
Part List

Technical Specifications
Inscription No Smoking
Type Sign
Printed 1 Side
Heigth 10" (25,4 cm)
Width 7" (17.8 cm)
Unit Converter
Detailed Description
Wall "No Smoking" Safety Panel
Get the strength of metal, without the rust. Superior abrasion and chemical resistance for indoor and outdoor environments.
Printed image on rigid 0.040" aluminum backing
Protected by 2-mil high-gloss UV polyester over-laminate film
Withstands splashes and washdowns
Endures outdoor environmental conditions
Rounded corners and 3/16" mounting holes
Service temperature range: -20°F to 140°F
Durability: 5 years outdoors
Technical Specifications
| | |
| --- | --- |
| Inscription | No Smoking |
| Type | Sign |
| Printed | 1 Side |
| Heigth | 10" (25,4 cm) |
| Width | 7" (17.8 cm) |
| Manufacturer | Accuform Signs |
Related Products
Capacity 5 000 butts
Volume 4 gal US (15 L)
Mounted Weighted bases
Finish Brush
Shape Round
Material Steel
Liner Galvanized steel
Include Snuff Plate
Locking Yes
Diameter 13" (33 cm)
Heigth 39" (99.1 cm)
Serie 9W31
Model Traditionnal Infinity
Manufacturer Rubbermaid
Finish Brush
Capacity 1 500 butts
Color Chrome
Shape Round
Volume 1 gal US (3.8 L)
Mounted Floor Anchored
Material Steel
Liner None
Include Snuff Plate
Locking Yes
Diameter 16" (40.6 cm)
Heigth 40" (101 cm)
Serie 9W31
Model Infinity
Manufacturer Rubbermaid
Material Steel
Capacity 1 800 butts
Liner Plastic
Finish Polished
Mounted Weighted bases
Include Snuff Plate
Volume 1,6 gal US (6,1 L)
Shape Rectangular
Locking Yes
Heigth 42" (106.7 cm)
Width 16" (40.6 cm)
Serie 92
Manufacturer Frost
Color Black
Depth 16" (40.6 cm)