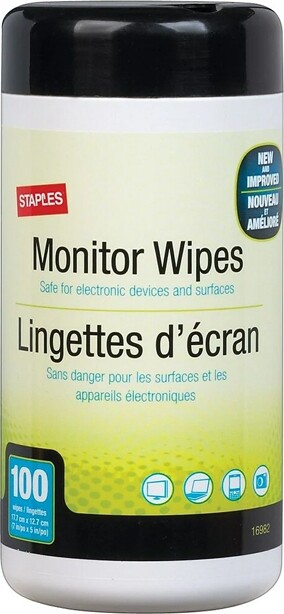 This product
is not available

with the option set selected. Please try another set of options.
If you have any questions, please contact us.

514-645-2753
775488 Monitor Cleaning Wipes Staples
Staples cleaning wipes feature anti-static formula that cleans and protects the monitor surface. Wipes are free from alcohol as well as ammonia that help to remove dust, dirt and fingerprints.
EM775488000
In stock
Part List

Technical Specifications
Feature Biodegradable
Sheet dimensions 7" x 5" (17.7 cm x 12.7 cm)
Sheets/Pack 100 sheets
Use Electronic devices and surfaces
Unit Converter
Detailed Description
Monitor Cleaning Wipes Staples
Alcohol and ammonia free
Safe for electronic devices and screen surfaces
Removes dust, dirt and fingerprints
Antistatic formula cleans and protects
Biodegradable
100 Sheets per Pack
Sheet size is 7" x 5" (17.7 cm x 12.7 cm)
Technical Specifications
| | |
| --- | --- |
| Feature | Biodegradable |
| Sheet dimensions | 7" x 5" (17.7 cm x 12.7 cm) |
| Sheets/Pack | 100 sheets |
| Use | Electronic devices and surfaces |
| Manufacturer | Staples |