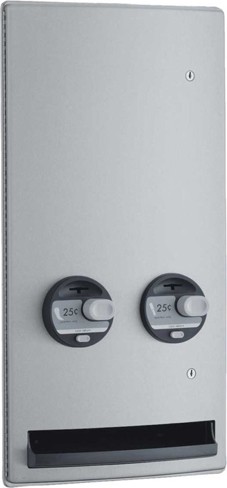 This product
is not available

with the option set selected. Please try another set of options.
If you have any questions, please contact us.

514-645-2753
Bobrick Napkin/Tampon Distributor Bobrick B-4706 CONTURA
CONTURA Sanitary Napkin/Tampon Dispenser
BOB47062500
In stock
Part List
Technical Bulletin

Technical Specifications
Capacity 30 tampons, 20 napkins
Finish Satin
Heigth 28-3/8"
Material Stainless steel
Model Double
Unit Converter
Detailed Description
Sanitary Napkin / Tampon Dispenser
The sanitary napkin/tampon provider is semi-recessed stainless steel with a satin finish. The buttons require less than 5 lbs of force. Easy access where the product falls in the tray.
There is only one slot for money pieces. The machinne accepts 25¢ and 50¢ money pieces (U.S. and Canadian) and rejects the 1¢, 5¢, 10¢, $1 and $2 and returns to the tank where the product falls. Indicator "Empty Product" automatically blocks the slot for money pieces.
The products are easy to load. The seller can contain 30 tampon and 20 napkins. Two locks separate money of products. The door opens to 27°.
Technical Specifications
| | |
| --- | --- |
| Capacity | 30 tampons, 20 napkins |
| Finish | Satin |
| Heigth | 28-3/8" |
| Manufacturer | Bobrick |
| Material | Stainless steel |
| Model | Double |
| Serie | ConturaSeries |
| Width | 14-3/8" |