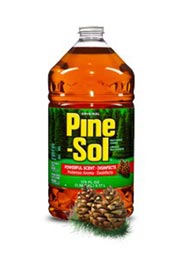 This product
is not available

with the option set selected. Please try another set of options.
If you have any questions, please contact us.

514-645-2753
Clorox Original Pine-Sol® Cleaner
Original Pine-Sol® Multipurpose Cleaner with fresh pine scent
CL0401555.0
In stock
Part List

Technical Specifications
Type Concentrate
Volume 5.18 L
Concentrated pH (25 °C) 2.0 - 3.0
Fragrance Pine
Color Amber
Unit Converter
Detailed Description
Original Pine-Sol®
There's a reason this powerful cleaner has been used for generations: it works. Since 1929, Original Pine-Sol® has been cleaning America's toughest stains, grease and grime. You'll experience that distinctive crisp, clean pine scent every time you use it to clean and deodorize.The Original Pine-Sol® Cleaner rapidly cuts dirt and grease on hard surfaces. One bottle can be diluted with water to clean nearly every surface type, making it the go-to, multipurpose cleaner.
BENEFITS
Powerfully cleans
Deodorizes and has a clean, fresh scent
Removes tough grease and dirt
DIRECTIONS FOR USE
General Cleaning and Deodorizing: Use 1/4 cup per gallon of water. No rinsing required except on rubber or asphalt tile. For tough jobs, use full strength and rinse immediately. For no-wax floors, only use diluted and rinse.*
Laundry: Rub in full-strength on grease spots or heavily soiled areas before washing. For extra cleaning and deodorizing power, add 1/2 cup to load. Use only on white or colorfast fabrics.
*Do not use on marble, aluminum, or wood that is unfinished, unsealed, unpainted, waxed, oiled or worn.
Technical Specifications
| | |
| --- | --- |
| Manufacturer | Clorox |
| Type | Concentrate |
| Volume | 5.18 L |
| Concentrated pH (25 °C) | 2.0 - 3.0 |
| Fragrance | Pine |
| Color | Amber |
Related Products
Units/Pack 10 mops
Band Narrow
Color White
Manufacturer Atlas Graham Furgale
Type Cut-end
Material Rayon
Capacity 1 gal US (4 L)
Manufacturer Atlas Graham Furgale
Shape Square
Use Velcro Pad
Model PuraSolutions
Heigth 11" (27.9 cm)
Width 12" (30,5cm)
Depth 7" (17.8 cm)